Perfect camping accessories for hikers, campers, and outdoor Lovers. Don't be caught lounging in something boring. This inflatable bed makes the perfect addition to your camping gear, outdoor supplies, and beach accessories.
Easy to inflate blow-up chair. No pump required, no wind necessary. The main trick is ensuring you trap the air by closing the mouth before the end of each swoop and keeping the mouth closed until you begin the next swoop.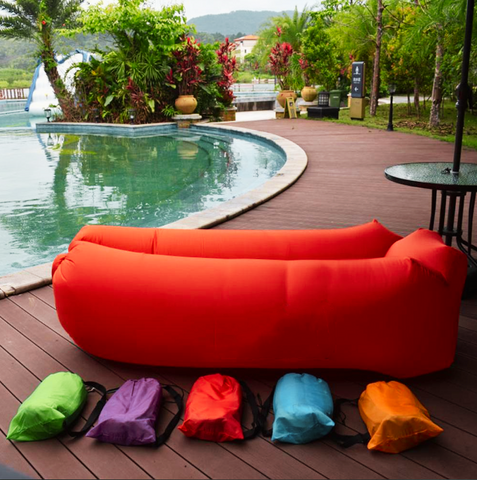 CUSTOMER SATISFACTION GUARANTEED: We are so sure you are going to love our Inflatable couch that we offer a 30 DAYS MONEY BACK Guarantee. So take it easy and chill on your new favorite summer accessory because we've got your back!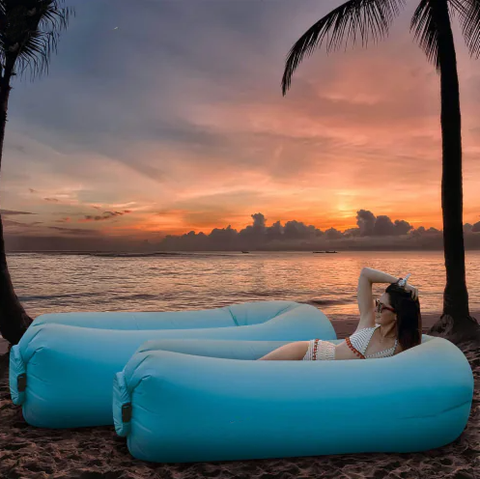 Inflating is quite easy once you get the hang of it — you blow it up by catching the air in it, then trap the air by snapping the opening shut. After 3-4 times "catch and trap", you roll the end and clip it, then it's ready for you to kick back, relax on and enjoy the music. You can also use tools such as a fan, hair dryer, leaf blower, etc to inflate it in seconds.
HOW TO USE: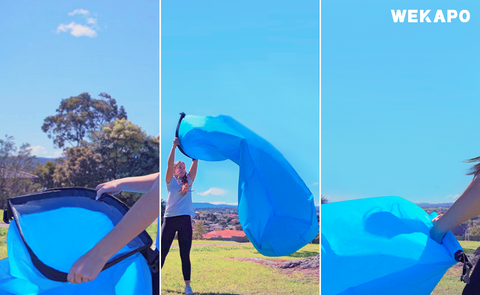 The design is super versatile for maximum comfort. The inflatable bed is a great outdoor accessory for anyone who likes camping, festivals or chilling outdoors with their friends and family. with its unique reversible design. Use it as an air couch for up to 3 people or turn it upside down so you can lay it out in optimal comfort lounge style. Whether you're looking for inflatable furniture for adults or a fun sensory chair for kids, this inflatable lounge bag is your ticket to chill.
Perfect for an afternoon of lounging, whether you're at the campsite, pre-game, BBQ, or music festival.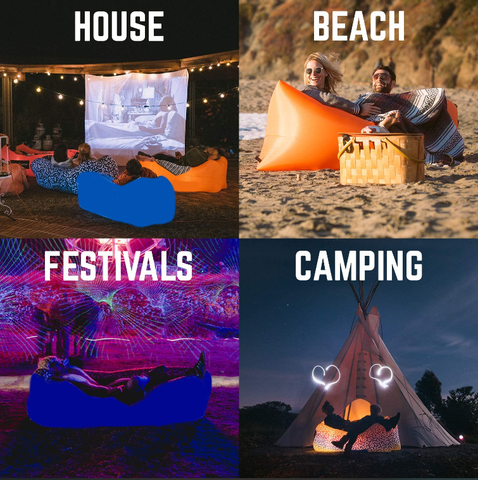 ANTI-DEFLATION TECHNOLOGY: Our unique patented design together with years of experience in making inflated products make sure that once our Sofa is inflated, it will stay inflated for at least 5-6 hours for our dear customers to enjoy.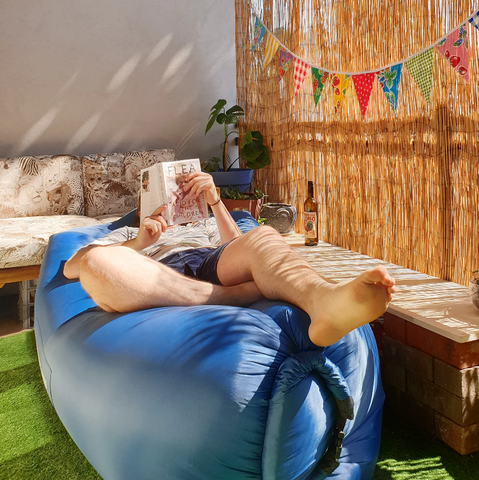 PACKAGE INCLUDES:
Created for convenience, more spacious, and extra comfortable blow-up beach chair. The compact storage makes this part of your vacation essentials. Whether you adding it to your camping gear, pool toys, camper accessories, beach accessories, festival accessories, or camping supplies the small and light bag will fit right in.
THIS INFLATABLE LOUNGER IS THE BEST THAT MONEY CAN BUY: Compare us to the competition and you will agree. We refuse to use cheap plastic accessories, poor quality fabrics, inferior materials, and poorly written manuals. What you do get is premium quality materials and top-notch craftsmanship. Our lounger is made with strong 210T ripstop polyester